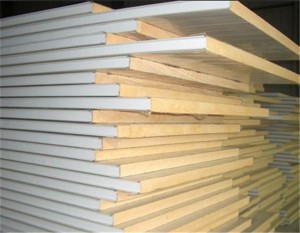 Color steel composite duct Overview
Color steel composite duct is the traditional place of the product, but also a new generation of galvanized metal duct evolutionary product, which in addition to a metal duct stiffness, strength of advantages, but also has not required secondary composite duct insulation, sound absorption performance. Duct appearance of color steel, overcome fiberglass duct, phenolic duct, air duct polyurethane foil duct strength is weak, easily damaged the outer wall of the weaknesses, promote the advantages of galvanized iron, as well as insulation for high-density phenolic insulation board ( or extruded insulation board), retained the muffler, the advantages of shock absorption.
Color composite duct of the main features:
● beautiful and durable
Double-sided color steel composite technology was adopted to make 4 color steel duct stiffness, high strength, high pressure deformation is small, can be used in high-pressure systems, production, transport, installation and removal of the outer stroke tube unbreakable . Color steel inner and outer surfaces duct is color steel, smooth surface, nice, no rust, good weather, long life, up to 30 years, and is easy to clean, especially for clean engineering, surface mounted pipeline the most significant of its distinguished qualities .
● noise absorption
Sandwich composite duct just as high-density phenolic insulation board (or extruded insulation board), with good acoustic performance, fully absorb the gas stream various noises, the duct having a similar pipe muffler silencer effect, not only to eliminate air conditioning, ventilation noise generated runtime, and can prevent the spread of sound ventilation ducts between rooms, to ensure the independence and privacy of each room.
● Efficient Insulation
Color steel composite duct insulation and disposable composite, reducing artificial incubation step, to avoid quality defects caused by artificial incubation. Not only to avoid the air handling system in the condensation of water vapor, veneer losses and reduce opportunities for growth and reproduction of microorganisms, and help reduce energy losses duct wall so high pipeline tightness (leakage reduction than the national standard 50 -60%), insulation effect, reduce HVAC operating costs.
● save space
Flanged socket with PVC, to eliminate "cold bridge" phenomenon, fast and easy installation, and can save installation space.
● reduce the load
Color steel composite duct insulation with lightweight phenolic insulation board (or extruded insulation board) as the main raw material, duct light weight, effectively reducing the load required for building structures, but also reduces the installation hanging, pendant Claim.
● making quick
Under color steel composite duct connecting flange and material, forming mostly mechanized production and effective guarantee of the standard of geometry, while improving production efficiency, shorten the construction period.